As we take our last sip of eggnog, wave farewell to 2021, and make plans to ring in the New Year, let's make sure to focus on what's really important: boating with family and friends! Winter is a great time for planning. Take out your 2022 calendar and figure out which weekends are already spoken for because of weddings, graduations, annual work events, or reunions. Are there any weekends open? Mark them as "blue" for boating and consider the following ideas for rejuvenating your boating life in the New Year: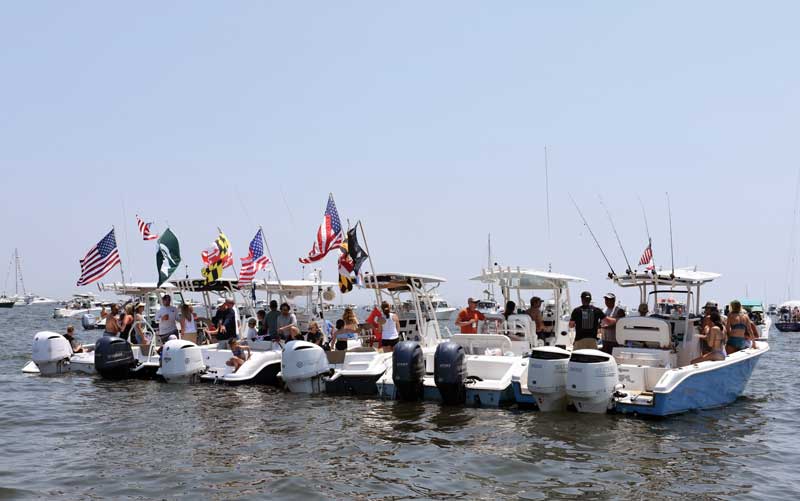 1. Visit new destinations. Is there a far-flung destination on your bucket list where you could cruise in your own boat or charter a boat? Have you looked at a chart of the Chesapeake Bay lately? Where have you yet to visit that looks appealing? Maybe there's a boat show, an OPA or APBA powerboat race, or a festival you'd like to attend by boat. Some of these events may not be scheduled yet, but others happen the same weekend every year, such as the Antique and Classic Boat Festival in St. Michaels over Father's Day weekend. The Baltimore Orioles schedule is up online if you'd like to choose a game to go to by boat.
2. Accept new challenges. Do you keep the the same-ole, same-ole boating routine year after year? Try something new. Sign up for a charity fishing tournament. Participate in a new poker run. Try a new watersport, such as wake surfing or standup paddleboarding. Sign the family up for a guided nature canoe trip. Build a boat.
3. Make new boating friends. Do you have a neighbor, colleague, friend, or family member whom you've promised to take on a boat ride someday? Why not pick a date in the New Year before everyone's spring schedules get packed? Take your parents out on the water. Take friends of your children out. Give new boaters a day to remember. Join a boating club—even a remote-controlled boating club—and make new friends. Plan a raftup. Invite friends to join you visiting that new destination (see #1). Boating is best when shared. 
4. Try new boat snacks. Have you ever been on someone else's boat at lunch or dinner time and been surprised by what they pull out of the cooler? Along with new boating friends come new ideas for what kind of snacks work best on boats. Some of these ideas are better than others, depending on weather conditions and the fit and finish of the boat, but it's fun to see how your friends' snacks differ from your own. PropTalk recently asked readers on social media about their favorite boat snacks, and they ranged from Pringles and pretzels to beef jerky and fried chicken. 
5. Gain new skills. Is 2022 the year you take a navigation course, get certified in CPR and First Aid, or learn how to troubleshoot your diesel engine by yourself? Keep your eyes on PropTalk for learning opportunities; we post them in our calendar monthly and during boat shows such as the Bay Bridge Boat Show (April 21-24). 
6. Invest in new gear. This may be the year you upgrade your onboard electronics, replace hardware on deck, or fix a troublesome area on the boat. What would make your onboard life safer and easier? 
7. Buy a new boat! Now, that would make 2022 one amazing year! If you do buy a new boat, send the photo and a few words about how you found the boat to [email protected]. 
Happy New Year!