In his 25th year owning the 46-foot custom deadrise Full Moon, Mike Krissoff is blown away by how many more adventures he's had on this boat than he'd ever imagined while designing her.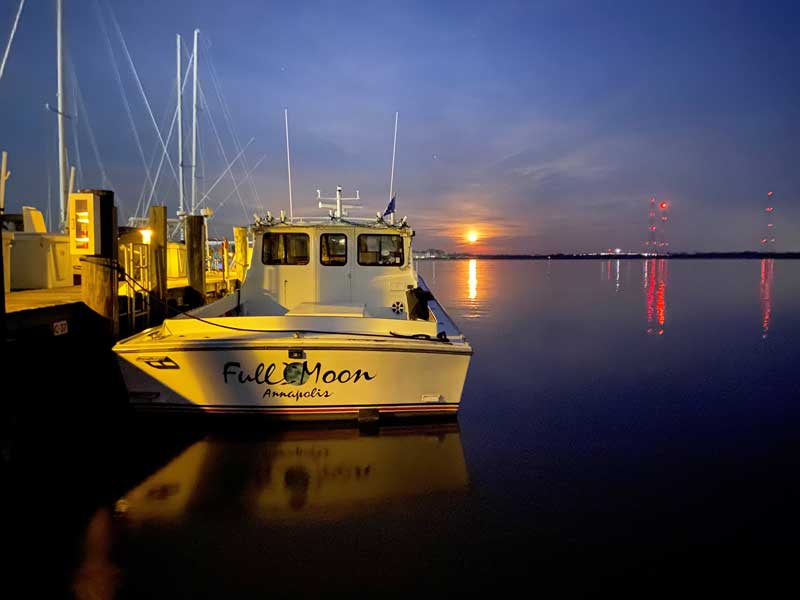 In 1994 he and his (then) wife owned a J/29 sailboat named Baby Moon. They also had two little boys. Krissoff says, "We thought, 'If these kids are getting into Opti sailing, there are two ways to go: put the Optis on top of the Suburban to go to regattas around the Bay and stay in motels, or load them up on boat and go that way.' It was a no-brainer."  
They looked around at some existing boats, such as sportfishermen and trawlers, but they didn't have what they were looking for in terms of deck space for the kids' sailboats. They sought a big open cockpit and smaller, simpler interior. They liked the look of lobster boats, but Krissoff noted, "If a lobster boat were the best boat for the Bay, all our watermen would have lobster boats, and not deadrises… No one was building designer deadrises at that time."  
The couple looked at a few used deadrises and discovered that Chesapeake Bay waterman don't sell their boats until they're done. The equipment was dated (such as 15-year-old Loran systems); the boats were tired. So, the Krissoffs' search for hulls began. They drove to Deltaville, Hooper's Island, up and down the East Coast, and as far north as the Canadian Maritimes looking for the right hull.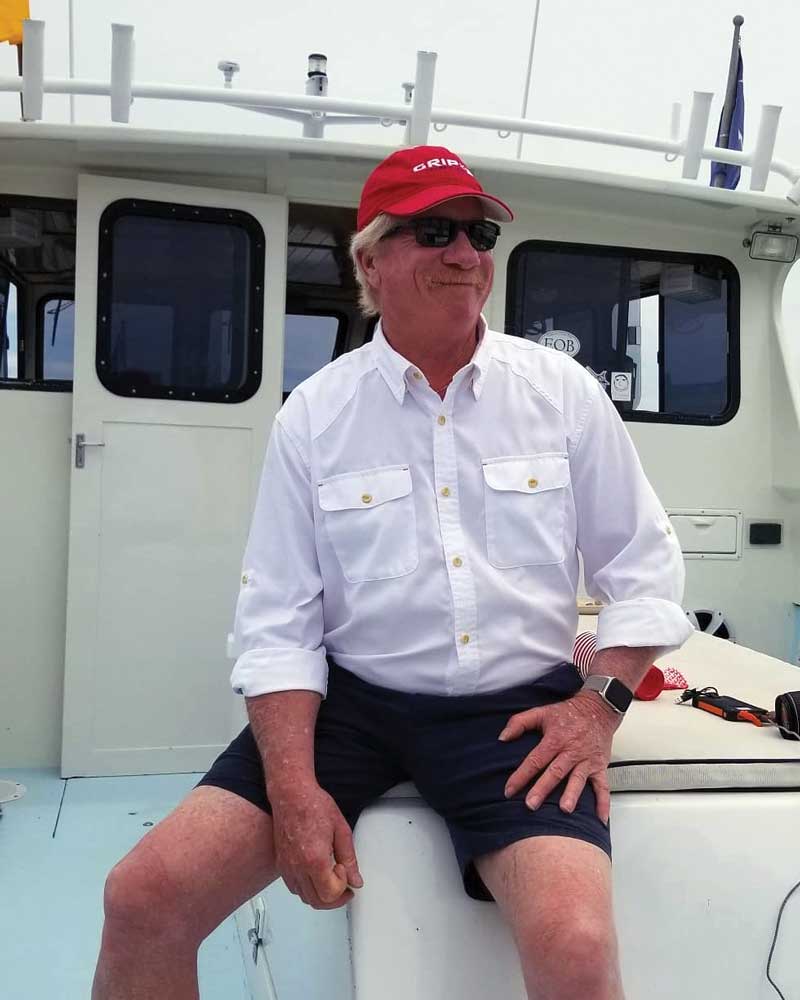 They eventually found the Markley 46, designed by a waterman who owned a boatyard in Baltimore. "They said they'd be happy to build us a boat. You give them a deposit and nine months later your boat is ready," says Krissoff. "They build a nice boat, but I told my wife, 'This is way too much money for us to pay and not know exactly what we're getting.' We needed a builder who would build to our specs." So, the search for the right builder continued.  
When their friend Steve McLaughlin found a boat builder, Jay Allen on Jenkins Creek off the Choptank, they connected. Although he'd never built such a large workboat and never one designed for pleasure, they met a few times, clicked, and began to plan.  
The Krissoffs were sailors who didn't know anything about powerboats, except for what they wanted the boat to do: to be a good platform for hauling Optis, fishing, and doing some race committee work and overnights. They didn't want any frills or anything that did not serve a purpose onboard. They turned to their friend, yacht designer Rob Ladd, for assistance. The build started in the fall of 1994.  
"I probably visited Cambridge once or twice a week for nine months," says Krissoff. "We wanted to be involved, and there was great entertainment value in it. We'd even take friends from Eastport Yacht Club (of which he was commodore at the time) and sit in the cockpit, filled with dust."  
He notes that his builder had a lightbulb go off about halfway through the project. "He'd taken his wife out there to his shop —and she understood what we were trying to do making this into a pleasure boat and somehow communicated it to him. He got it."  
The little decisions along the way made the building process interesting and made the boat their own. They didn't want an oven in the gallery ("We weren't going to be baking"), so a microwave, fridge, gas grill, and one-burner stove stashed in a locker sufficed. Another example was where the aft steering station would be located.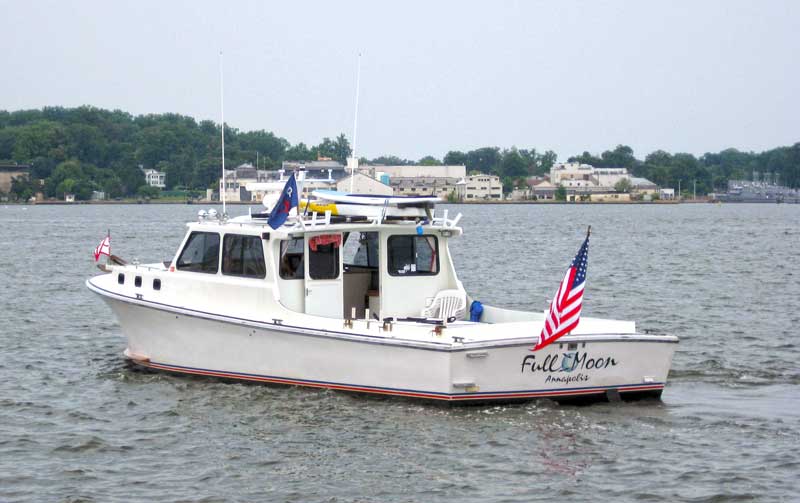 Krissoff says, "I wanted it as far aft as possible, but needed enough room for someone to bring in a fish or put down a drop mark for sailboat racing. There was a reason for every single thing we did." 
The boat splashed in the spring of 1995. Since then, Full Moon has hauled Optis to and from regattas up and down the Chesapeake, gone to New York City for OpSail 2000, done annual opening day fishing trips, volunteered as the race committee boat for youth and adult regattas, acted as a log canoe chase boat, entertained clients, and done day charters, and more. The boat has traveled as far north as Yonkers, NY, and as far south as the Alligator River in North Carolina. 
Krissoff says, "Full Moon has delivered fun, family life, many friendships, a lot of square (sailboat race) starting lines, a bunch of great boat dogs, and countless smiles." 
To celebrate his 25th year with Full Moon, Capt. Mike Krissoff intends to continue to appreciate his boat, do some cruising and fishing, and enjoy life on the Chesapeake. To learn how you can also enjoy Full Moon, visit capnmikesfullmoonadventures.com.