Chris-Craft, Lyman, Gar Wood, Trumpy, Egg Harbor! These are just a few of the great classic boats to be featured at the 35th Annual Antique and Classic Boat Festival and Coastal Artisans Fair June 16-18 at the Chesapeake Bay Maritime Museum (CBMM) in St. Michaels, MD.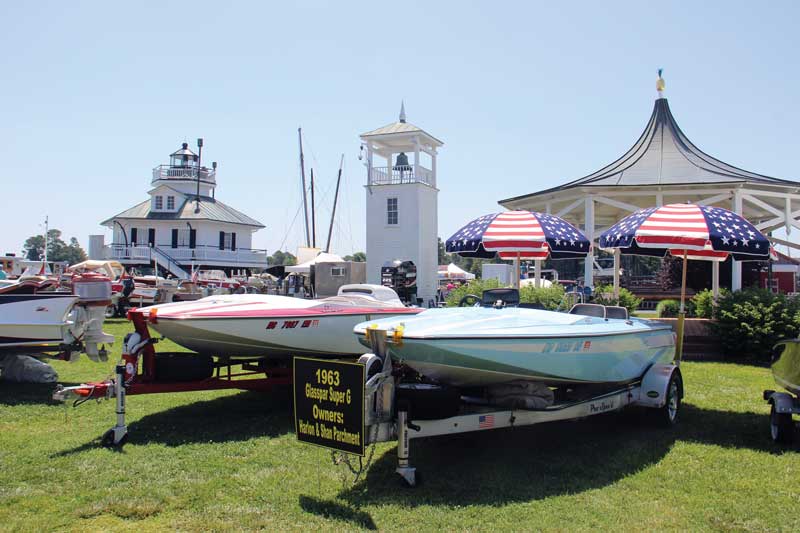 Families looking for something special to do with Dad on Father's Day weekend need look no further than this event, one of the largest classic boat shows in the Mid-Atlantic region. 
Organizers with The Antique and Classic Boat Society (ACBS)-Chesapeake Bay Chapter have selected the theme, "Show Us Your First Love," inviting boat owners to display their boats and share stories about what first launched them on their lifelong love of classic and antique boats. More than 100 cruisers, runabouts, and racers (wood as well as pre-1997 fiberglass and metal boats) will be displayed both in water and on land. There will also be a Field of Dreams for those looking to own one of these beauties.
Families can stroll the 17-acre CBMM campus to view these extraordinary boats and talk with their captains and to purchase unique works of art at the juried Coastal Artisans Fair. In addition, there will be a nautical flea market, children's activities, free boat rides, and a variety of educational seminars, including "From Their Jersey Nest: Excellence in Egg Harbor Yachts," "From Martha to Perri Lee—Evolution of a Hooper Island Draketail," and "Fine American Designs Coronado, Sea Lark, SeaHawk by Arbib, Stevens, Loewy." Visitors can also learn about Chesapeake Bay history and culture in buildings throughout CBMM's scenic, waterfront campus.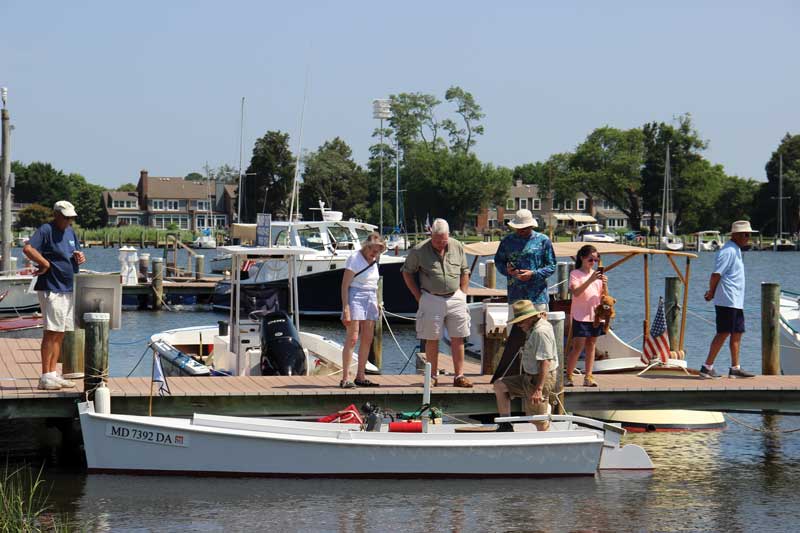 Owners of boats in all phases of restoration in the following classes are invited to participate in the show: historic (up to 1918), antique (1919-1942), classic (1943-1975), late classic (1976-1997), and contemporary (any wooden boat). Early registration is encouraged as space is limited. Register online before June 1 at chesapeakebayacbs.org/participants-2.
Tickets for the festival are now on sale and are valid for two consecutive days (Friday/Saturday or Saturday/Sunday). Tickets cost $19 for adults, $7 for children ages six to 17, and free for children ages five and under. For more ticket options and to purchase, visit cbmm.org.
Seminar Schedule:
Friday, June 16 Talks:
11 AM "Regional Cuisine – Old Line Plate Uncovers Classic Maryland Recipes" Special Talk by Kara Mae Harris, Culinary Author and Blogger
12 Noon "From Their Jersey Nest: Excellence in Egg Harbor Yachts" With Steve Izant, Retired Hospitality Exec, Stage Actor, Antique Boater
1 PM "The Boats of James Bond – 007 + or -- Vessels from the Movies" Featuring Austin Berndlmaier, Alicia Boardman and Holly Tompkins
2 PM "Saving Finned Fiberglass Boats of the 1950s and 1960s" Presentation by Tidewater Chapter President Eric Zellman
3 PM Panel Discussion: "If You Only Had Room for a Score: The Top Twenty Mid-20th century motorboats that Should be Displayed in a Mid-Atlantic Museum", with an Expert Panel and Staff of Chesapeake Bay Maritime Museum, featuring Pete Lesher, Chief Curator CBMM; Chris Seabuddy Brown of PropTalk; Jeff Beard of Classic Boating Magazine; and Andreas Rhude, Midwest Boat Historian
Saturday, June 17 Talks:
11 AM "A CanAm Connection: Shepherd and Jafco Boats of Niagara Lake" Featuring Paul Warner, Retired Annapolis Architect & ACBS Chapter Founder
12 Noon "From Martha to Perri Lee – Evolution of a Hooper Island Draketail" With Designer Gary Van Tassel and Vessel Owner Lewis Gayner
1 PM "All in the Family? Boats by Thompson, Cruisers, T&T, Grady-White" Special presentation by Andreas Jordahle Rhude, Midwest Maritime Historian
2 PM "Fine American Designs Coronado, Sea Lark, SeaHawk by Arbib, Stevens, Loewy" With Jeff Beard, Classic Boating Magazine Contributing Author
3 PM "First Loves – Boats That Grabbed Our Hearts (and We Won't Let Go)" Deb Fass and her beloved Century Coronado; Paul Spadaro and his Pre-War Richardson; Holly Tompkins and her Hunt-design Cayuga. Moderated by Past CBC/ACBS Commodores
Seminars are FREE to all Chesapeake Bay Maritime Museum Members, Antique Boat Festival Participants, and Visitors Who Have Paid Admission to the Museum Grounds.
For more information, visit the Chesapeake Bay ACBS site or email [email protected].