The holiday season on the Chesapeake Bay is truly a magical time of year, from lighted boats parading down our waterways to crab basket Christmas trees. There's no better place to be! If we missed your Chesapeake Bay lighted boat paraded, email [email protected] and we would love to add it to our list. Be sure to check event websites for any updates, changes, or weather cancellations before planning to attend.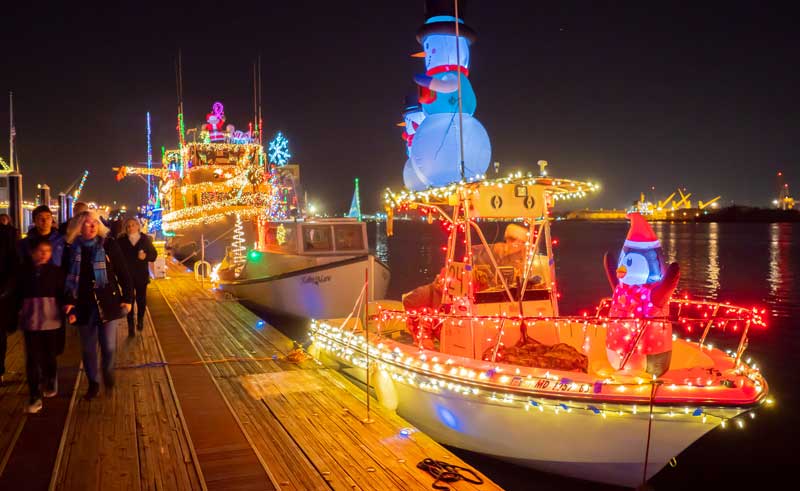 Chesapeake Bay Lighted Boat Parades
Upper Bay
Middle River Lighted Boat Parade: November 25.
The Mid-Atlantic's largest lighted boat parade and now the fifth largest in the US. To register, text your name, address, and boat information to (410) 463-2686 (pre-registration required). Each captain receives a package with gift cards in excess of $325. Participants should meet in front of Stansbury Yacht Basin at 5:30 p.m. The parade route is as follows (dependent on weather, wind, waves, and tides): Carsons Creekside/Dark Head Cove/Hawthorne, Middle River Yacht Club/Crazy Tuna, Middleborough/Norman Creek/Crescent Yacht Club, Bauernschmidt Manor/Eastern Yacht Club, Rockaway/Turkey Point, Bowleys Point/Bowleys Quarters, Frog Mortar Creek/Parkside Marina, and back to Stansbury for parade disbursement. Visit facebook.com/mrboatparade for more information.
Pasadena Lighted Boat Parade: November 25.
Register by calling (410) 255-1771. The Broken Oar Bar and Grill is hosting a parade launch party at 4 p.m. There will be Christmas music, prizes for boat contestants, Christmas treats for kids and hot toddies for the grownups ($5 cover, kids are free). Seating is first come, first serve; tables are for dining only. For a map of the parade route, visit facebook.com/PasadenaBoatParade.
Baltimore Parade of Lighted Boats: December 2.
Festivities begin at 5 p.m. at Anchorage Marina, which is offering free dockage to all participants. Sponsored by Sail Baltimore and Anchorage Marina. To register, visit anchoragemarina.com.
Bear Creek Lighted Boat Parade: December 2.
Beginning at 5:30 p.m. from Hard Yacht Café in Dundalk, MD. Visit the Bear Creek Sailing Association Facebook page for more information.
Bohemia River Boaters Christmas Boat Parade: December 2.
The Bohemia River Boaters will spread holiday joy as they light up their boats and parade them down the canal (beginning at 6 p.m.) and into the basin arriving at Chesapeake Inn. Rain date December 9. Learn more at chesapeakecity.com/events.php.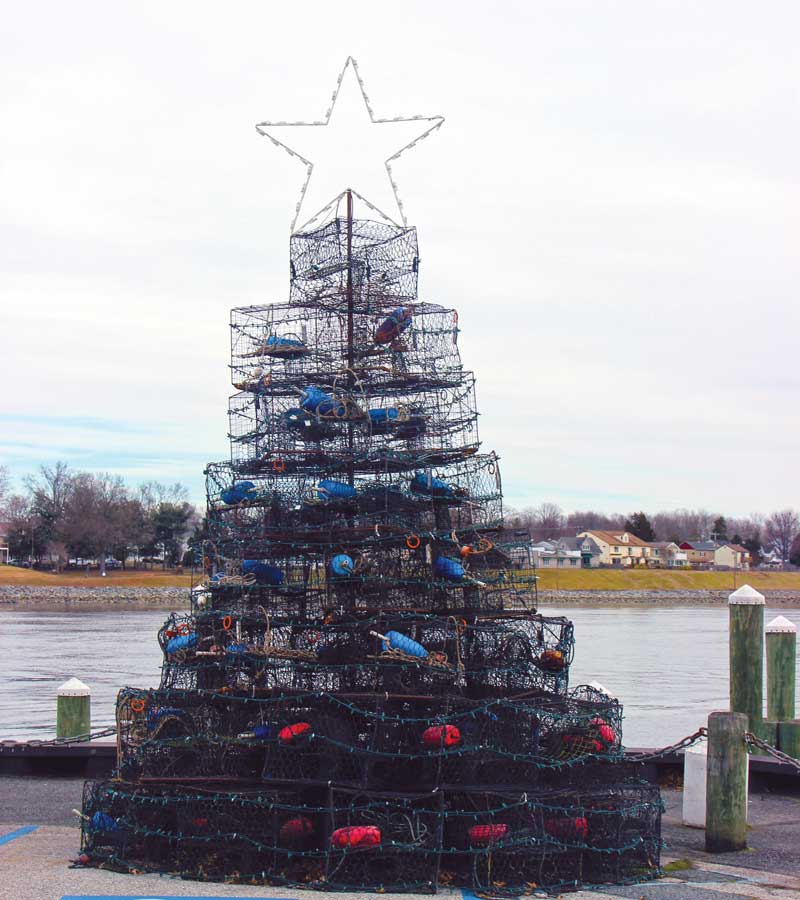 Middle Bay
Colonial Beach Lighted Boat Parade: November 25.
From 5 to 7 p.m. in Colonial Beach, VA. There are three categories: powerboats 35 feet and larger, powerboats less than 35 feet, and sailboats. Prizes include the best decorated boat in each of the three categories, and among the entire fleet of boats a prize for Best Use of Lights, Most Original, and Judges Choice. These six prizes consist of a plaque and $100. Register at: colonialyachtclub.clubexpress.com.
Irvington Lights on the Creek Lighted Boat Parade: November 25.
Hosted by the Rappahannock River Yacht Club (RRYC) on Carters Creek in Irvington, VA. Parade forms at 5:30 p.m. near Custom Yacht Service on the eastern branch of Carters Creek. Boats will travel west passing RRYC on starboard, continuing on to the Tides Inn. Multiple prize categories. Post parade party at RRYC at 7 p.m. Open to any type or size of boat. Learn more at rryc.org.
Alexandria Holiday Boat Parade of Lights: December 2.
The parade starts at 5:30 p.m. Old Town Alexandria, VA's, historic waterfront will shine as dozens of brightly lit boats cruise along one mile of the Potomac River shoreline. Enjoy dockside festivities in Waterfront Park including a pop-up beer garden from Port City Brewing Company, food, activities, and more. Learn more and register at visitalexandria.com/holidays/boat-parade.
The District's Holiday Boat Parade: December 2.
From 6 to 9 p.m. along the Washington Channel in Washington, DC. Get into the spirit with ornament decorating and face painting by Recreation Pier. Roast s'mores at the Camp Wharf fire pit and visit the lighted 45-foot Christmas tree. Skate at The Wharf Ice Rink on Transit Pier, sample winter drinks at the Corona Beer Garden, and bring your camera for pictures with Santa. Boats arrive for the parade at 7 p.m., and there will be a fireworks salute at 8 p.m. followed by live music. Learn more at wharfdc.com/boatparade.
Solomons Christmas Walk Annual Lighted Boat Parade: December 9.
Starts at 6 p.m. and ends along the Riverwalk at approximately 7:15 p.m. weather permitting. The parade is coordinated by Solomons Island Yacht Club, Southern Maryland Sailing Association, Patuxent River Sail and Power Squadron, Solomons Yachting Center, and Sail Solomons. A captain's meeting covering the route, safety issues, and rules for judging will begin at 5:15 p.m. at the Solomons Yachting Center. Register at solomonsmaryland.com. The island will be decorated with lights and banners, and an entertainment lineup will be announced as the event gets closer. 
Christmas in St. Michaels Lighted Boat Parade: December 9.
At 6 p.m. around St. Michaels Harbor. There are lots of great viewing venues around the harbor, including the Chesapeake Bay Maritime Museum (free admission after 4 p.m.). To register for the parade, visit christmasinstmichaels.org.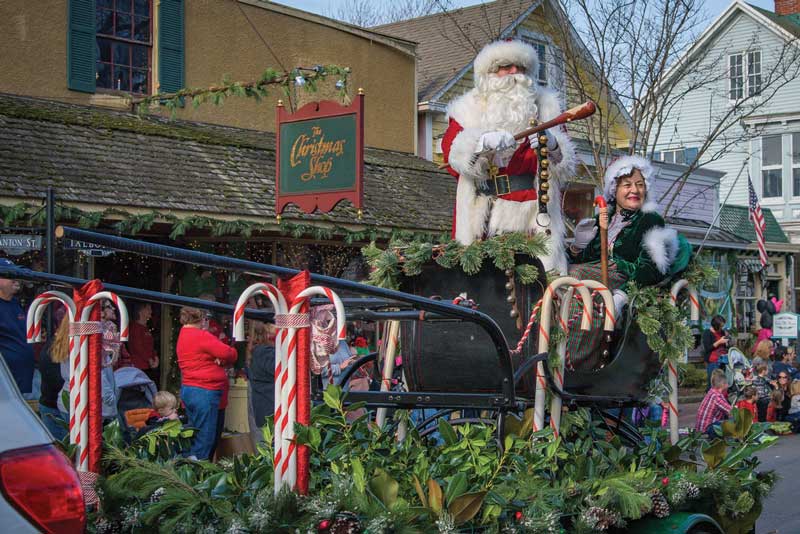 Eastport Yacht Club Lights Parade: December 9.
From 6 to 8 p.m. around Annapolis Harbor. Anyone can participate, EYC members and non-members, power or sail. Skippers must register and attend the skippers' meeting, Thursday, December 7 at 7 p.m. at EYC. The Spa Creek Bridge will be closed to vehicles crossing between downtown Annapolis and Eastport periodically from 5:30 to 8 p.m. Possible viewing locations include the Eastport Bridge, Naval Academy, City Dock, Ego Alley, the Harbor Queen, or any of the streets that dead-end at the harbor or Spa Creek in Eastport. For a map of the parade route, decorating tips, registration information, and more, visit: eastportyc.org/lights-parade.
Deale's Annual Parade of Lights: December 12.
Parade starts at 6 p.m. on Rockhold Creek in Deale, MD. Spectators are encouraged to get to the parade viewing location at 5:30 p.m. Starting point: Rockhold Creek Bridge/Happy Harbor, continuing up the creek and into Tracys Creek going as far as Dockside/Tracys Creek Bridge as the boats can go depending on tide, then turning back and making a loop in front of Skippers Peir Restaurant. Skippers Pier is taking dinner reservations for that night and has a viewing area on the top deck which is first come first serve. Dockside will be taking dinner reservations; Happy Harbor is first come first serve seating. For updates, visit facebook.com/DealeMDParadeOfLights. Questions? Email [email protected].
Lower Bay
Yorktown Lighted Boat Parade: December 2.
From 7 to 8 p.m. along the Yorktown, VA, waterfront. Pre-parade festivities start at 6 p.m. and include caroling around a beach bonfire, a musical performance by the Fifes & Drums of York Town, and complimentary hot cider. The boats will finish out the evening, as they make their way down the river in a dazzling show of lights that starts at 7 p.m. Learn more at visityorktown.org.
Hampton Lighted Boat Parade: December 16.
The Hampton River will come to life as a fleet of decorated boats parade past the Downtown Hampton waterfront. The parade runs from 6 to 7:30 p.m. and concludes with an awards ceremony at 8 p.m. Following the parade, Santa will join the fun dockside. For more information, a map of the parade route, and to register, visit downtownhampton.com/lightedboatparade.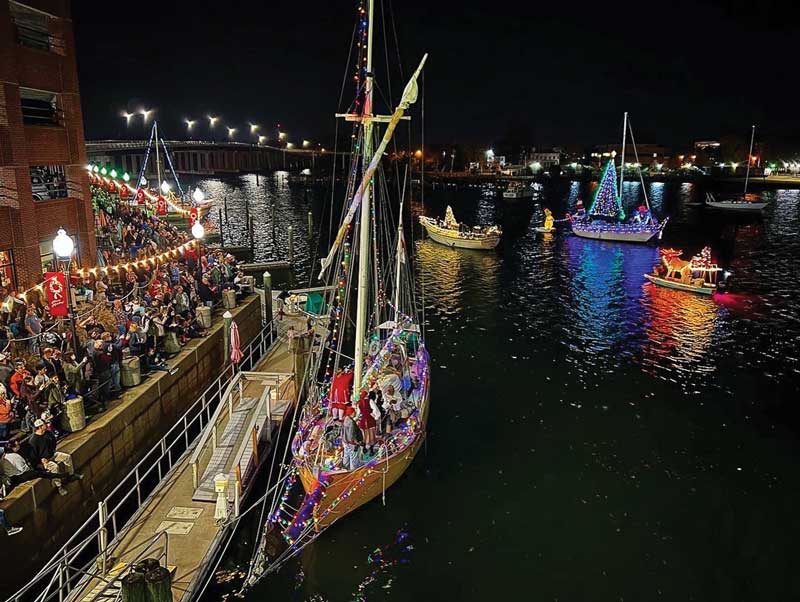 More Holiday Events:
Chesapeake City Lions Club Christmas Tree Lighting: November 26.
5 to 7 p.m. at Pell Gardens in Chesapeake City, MD. Arrive early for the entertainment. Santa will light the tree around 6 p.m. Learn more at chesapeakecity.com/events.php.
Holiday Events at St. Mary's County Museums.
The Holiday Open House at the Piney Point Lighthouse Museum takes place November 26 from 10 a.m. to 5 p.m. There will be family activities, refreshments, and more. The museum will also be open daily through January 1 (closed Christmas Eve and Christmas) for a family-friendly holiday exhibit. Learn more at facebook.com/1836Light. The St. Clement's Island Museum Holiday Open House is December 3 from 10 a.m. to 5 p.m. Enjoy the opening of the museum's Christmas Doll and Train Exhibit (which runs through January 1; closed Christmas Eve and Christmas) with kid's activities, music, refreshments, and more. 
Christmas in Yorktown.
Yorktown, VA, kicks off the holiday festivities with a Christmas tree lighting on December 1 at Riverwalk Landing. Everyone is invited to gather at York Hall by 6:30 p.m. for live music including a performance by the Fifes and Drums of York Town. From there, the procession will make its way to Riverwalk Landing, where the tree lighting ceremony will begin at 7:30 p.m. The Christmas Market on Main takes place December 2-3 from 10 a.m. to 3 p.m. on historic Main Street and features close to 100 vendors. Other events include a nighttime Christmas market on December 8, a Viking Yuletide Celebration December 2-3 at the Waterman's Museum, and more. Find more details in Visit Yorktown's calendar. 
A Dickens of a Christmas Weekend: December 1-2 in Chestertown, MD.
Step back into 1840's London and experience the holiday season as Charles Dickens imagined it. This two-day event includes carriage rides, entertainment, home tours, food, book talks, merchandise, and more. And don't forget to come dressed like the Dickens! 
Alexandria Scottish Christmas Walk Parade: December 2. 
11 a.m. to 1 p.m. in Old Town Alexandria, VA. Dozens of Scottish clans dressed in colorful tartans parade through the streets of Old Town, joined by pipe and drum bands from around the region, as well as terriers and hounds, and more. 
Grasonville Vendor Fair and Tree Lighting: December 2
The days festivities will begin with a vendor fair at 2 p.m. at the pavilion at Fisherman's Crab Deck in Grasonville, MD, followed by a tree lighting at 6 p.m. Whether you are looking for decorations to strum up the holiday spirit or unique stocking stuffers and gifts, the vendor fair will offer a wide selection of hand--crafted items. There will even be face painting and crafts for the little ones to enjoy. While you're there stop by to meet Santa and Mrs. Clause and get a selfie!
74th Annual Cambridge Dorchester County Christmas Parade: December 2.
The Parade route begins at 5 p.m. at Long Wharf, progresses down High St., turns left onto Poplar, straight down Race St., ending at Washington St. by Haddaways. Theme: Snowflakes on Parade. The parade is 100 percent donor-funded and volunteer-run. Donations are accepted at christmasparade.org.
Santa's Arrival in Rock Hall: December 2.
Christmas festivities kick off in Rock Hall, MD, with the arrival of Santa and Mrs. Claus by boat followed by a parade of boats at the bulkhead at 6 p.m. The community band will be on-hand to entertain—both at the bulkhead awaiting Santa's arrival and on Main Street. Santa will travel by firetruck to Main Street to officiate the lighting of Rock Hall's crab basket Christmas tree featuring several hundred decorated baskets in honor of loved ones. Following the tree lighting, enjoy tasty smores roasted over a community firepit and follow Santa and Mrs. Claus to "Santa's House" in the Visitor Center for children to make their Christmas wishes. 
Midnight Madness – Downtown Annapolis: December 7, 14, and 21.
Shop local on December 7 and 14 from 4 p.m. until midnight, and until 11 p.m. on December 21. The downtown Annapolis area, including West Street, Maryland Ave., Main Street, and the City Dock area will be filled with traditional holiday decorations, including beautiful storefront windows, garland, wreaths, holiday lights, a snowflake alley, light canopies, a large Christmas tree, and a menorah. 
Christmas in St. Michaels: December 8-10.
Festive events throughout the weekend in St. Michaels, MD, including breakfast with Santa, holiday meals, holiday music, a lighted boat parade, the Talbot Street Parade Saturday at 10:30 a.m., and more. This traditional Christmas parade features marching bands, antique cars and boats, fire engines, horses, kazoo bands, and even llamas! Bring a chair and come early to get a great spot along the parade route for the largest holiday parade on the Eastern Shore. Rain or shine. Talbot Street will be closed to vehicular traffic from 10:15 a.m. until noon from Seymour Avenue to Perry Cabin. The mission of Christmas in St. Michaels is to provide resources to help local nonprofit groups enhance the quality of life for the residents of the Bay Hundred community. 
Poplar Hall Parade of Horses and Christmas Market: December 9.
10 a.m. to 4 p.m. in Historic Chesapeake City, MD. Christmas parade of horses, artisans, live concert, great food from local restaurants, and more. From 6 to 9 p.m., enjoy candlelight house tours. Check in begins at Franklin Hall.
Onancock Holiday Artisans Market and Christmas Homes Tour: December 9.
The Holiday Artisans Market takes place 10 a.m. to 3 p.m. at the Historic Onancock School. Features artists, artisans, open studios, authors, entrepreneurs, and more. Come to shop, enjoy live music, and meet and greet friends before and after you visit the Holiday Homes Tour. The Homes Tour takes place from 1 to 5 p.m. Learn more at onancock.org/events.
East of Maui Santa Paddle: December 17 
Join East of Maui and Santa for a holiday paddle around Annapolis Harbor, City Dock, and Spa Creek. Holiday attire is encouraged. For your safety, PFDs are required as per USCG regulations, and leashes are also required. Wetsuits or drysuits are highly recommended. This is an UNSUPPORTED event and each paddler is responsible for their own safety. The event is free, however, this year we are going to ask you to make a small $5 donation (or whatever you can afford) to either the EWE Spirit Fund or to Anne Arundel Riverkeepers. A little Christmas shopping at East of Maui is always appreciated. There will be a brief safety meeting at 9:30 a.m., pictures with Santa, and launching immediately after.