Pity the poor Cocktail Class racer who wasn't at the CCWBRA Kent Island Regatta on September 10 at Kent Island Yacht Club.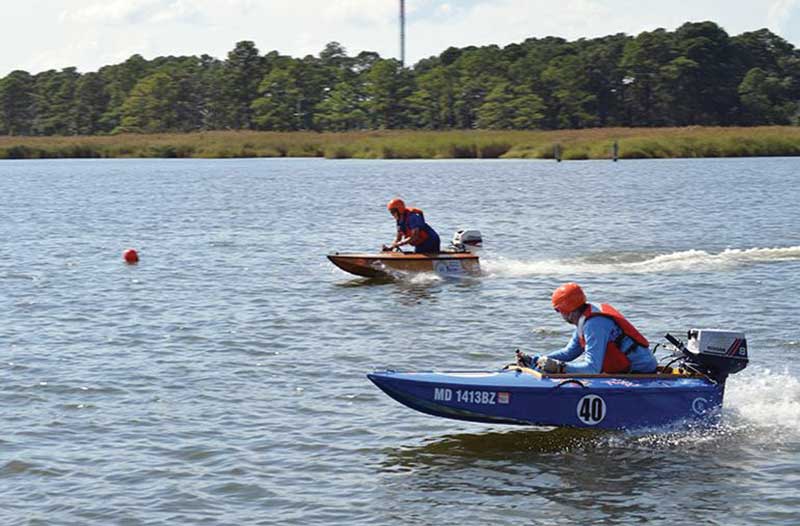 Meteorologically speaking, Kent Island was even closer to heaven itself than last month's Nationals. The breeze never exceeded five knots and the peninsula upon which the Kent Island Yacht Club resides sheltered the racing area from the breeze and the wakes of boats transiting the Kent Island Narrows. Throughout most of the racing day the water was absolutely flat. Sun with a few clouds was the order of the day with the air temperature in the low 80s; sweet relief from the summer's heat and humidity. 
Nine boats, eight drivers, and a multiplicity of engines made 19 entries in six classes, with four boats and three drivers from Florida come to test the locals. Ray Crowley and Rick Loewen made their first Mid-Atlantic showing at Camp David and were back, accompanied by Terry Loewen with: #38 Double Shot, #500 It's 5 O'clock Somewhere, #407 Neat, and # 37 Chaser.  Ray tells us that there is yet another new boat, Rocks, a companion to Neat, under construction back in Florida.
The race committee—Keith Carew, Tara Carew, and Todd Steffes—set out a clockwise course familiar to anyone who has raced Kent Island before. The first three turns made for some very close and exciting racing. Turn three especially seemed to collect wakes and pile them up in unpredictable ways.  Mother Nature added in a bit of spice, forcing us to share the Bay with a gazillion small jelly fish or "sea nettles" as we say in the Chesapeake. Remarkably, only your humble reporter was stung, and then not very badly. Add alcohol (the rubbing kind) and meat tenderizer to your racing kit.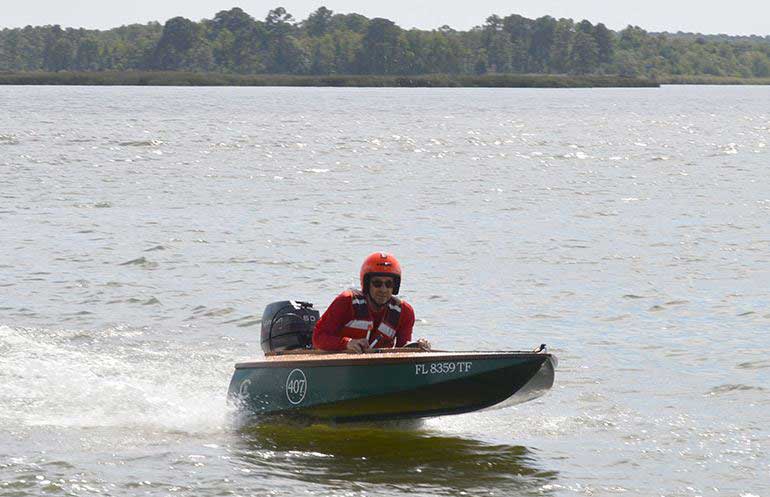 For the first time this season, the Tohatsu 6-hp class was the smallest of the meeting with only two entries. In her first appearance in a Mid-Atlantic race, Terry Loewen in Double Shot chased Todd Steffes in #20 Hot Toddy three times to garner her first trip to the podium. Likewise, Russ Bowler in #40 The Flying Kiwi led Ancient Mariner Tom Kerr in #46 Rajic around the course three times to take Early Classic.
Bowler picked up another hat trick in Late Classic leaving Kerr to fight it out for second with Zach Ditmars's #67 Molotov. Ditmars was entered in Late Classic Heavy, but for lack of competition he raced in Late Classic Mixed. Kerr prevailed by one point. Ray Crowley was fourth in Chaser.
In Post '79 Heavy, Ditmars's Molotov led Steffes and Terry Loewen to the finish line three times, giving Loewen a third-place finish and her second trip to the podium.
The Flying Kiwi again proved dominant in the 8-hp bash taking two firsts and a second ahead of Hot Toddy with two seconds and a first. Rick Loewen guarded third place in It's Five O'clock Somewhere.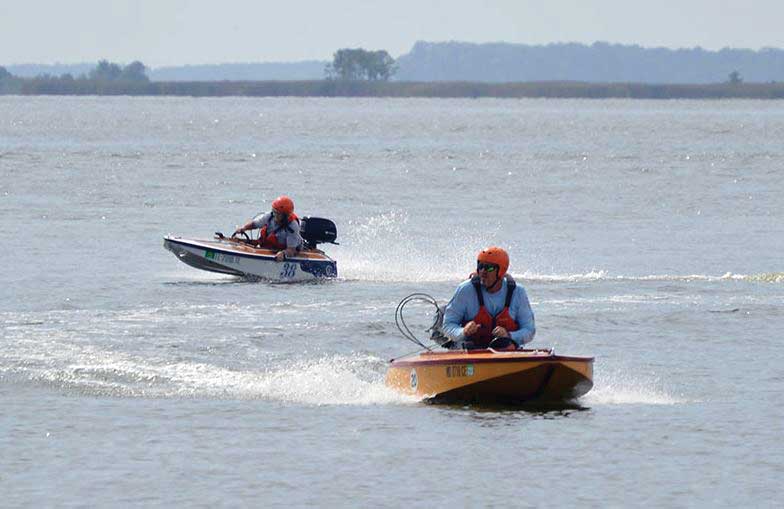 Without a doubt the most entertaining race (and the largest class) of the day was Post '79 Mixed which required five starts to complete three sprints. In the first sprint Crowley in Neat and Rick Loewen in It's Five O'clock Somewhere immediately jumped into the lead with Bowler, Tom Kerr in Rajic, and Lou Linden in #66 Mrs. Smirnoff in hot pursuit. Things soon went awry when the leaders both headed off the course in different directions after turn one allowing Kerr, Linden, and Bowler to complete the lap 1,2,3. 
Crowley later explained, "Neither of us had ever been in first place before, and when we didn't have someone to follow, we got lost!"
The second sprint started with three boats abreast at the first turn and only separated by less than a boat length at turn two. It ended at turn three when Linden, sliding sideways, dove inside Ray Crowley, caught a large wake sideways and was thrown from his boat, black flagging the sprint.  Mrs. Smirnoff floated placidly by, a monument to the effectiveness of kill switches, while the safety boat retrieved Linden and put him back aboard. Several wags suggested that there should be a Catapult Club for those who leave their boat without capsizing.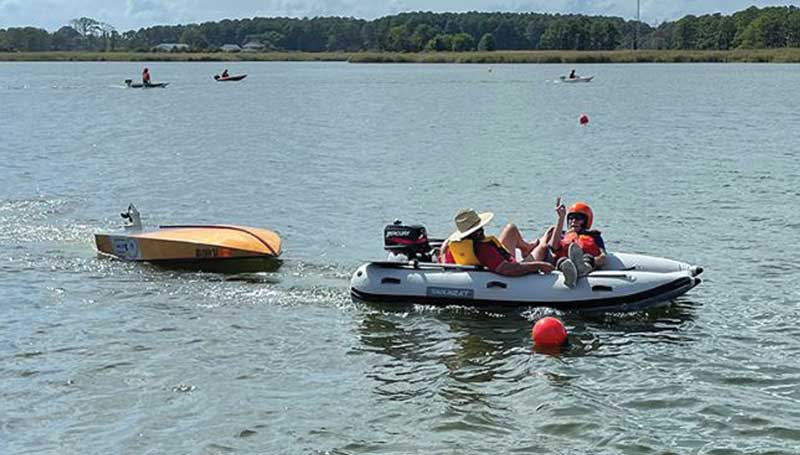 In the restarted second sprint, the entire class thundered to the start line with Mrs. Smirnoff barely in the lead when Linden balked just before the line, and the rest of the herd went over early. Linden had only to make it to the finish line to win the sprint on points and he did. The Flying Kiwi failed to finish due to mechanical problems. After the third start, Mrs. Smirnoff was in third place behind Rajic and Neat rounding turn three when Loewen, who was making a wide turn trying to find clear water, crashed into Mrs. Smirnoff's stern and capsized, bringing out the black flag. The crash took a chunk out of It's Five O'clock Somewhere's starboard bow rail which apparently encountered the port edge of Mrs. Smirnoff's transom which was undamaged. The Urbani built boats are strong as well as fast. Neither Loewen nor Bowler managed to restart for the third sprint. Kerr led Linden and Crowley around the final lap leaving Kerr and Linden tied on points for first place. The tie was resolved in Kerr's favor with Bowen taking third and Loewen being inducted into the Turtle Club.
After awards, an adult beverage or two, and slaps on the back for all present, racers rolled out under darkening skies, a prelude to Sunday's all-day rain. Crowley and the Loewens headed to Tennessee for racing on September 24, and all present intended to be at the season finale, Oktoberfest, at Great Oak Landing in Chestertown on October 15. 
Kudos to Todd, Tara, and Keith for putting on a great day of racing and thanks to our hosts, the Kent Island Yacht Club. 
CCWBRA Kent Island Regatta Results:
Tohatsu 6-hp Mixed
1. Todd Steffes, 20 Hot Toddy
2. Terry Loewen, 38 Double Shot
6-hp Early Classic Mixed
1. Tom Kerr, 46 Rajic
2. Russ Bowler, 40 Flying Kiwi
6-hp Late Classic Mixed
1. Russ Bowler, 40 Flying Kiwi
2. Tom Kerr, 46 Rajic
3. Zach Ditmars, 67 Molotov
4. Ray Crowley, 37 Chaser
6-hp Post '79 Heavy
1. Zach Ditmars, 67 Molotov
2. Todd Steffes, 20 Hot Toddy
3. Terry Loewen, 38 Double Shot
6-hp Post '79 Mixed
1. Tom Kerr, 46 Rajic
2. Lou Linden, 66 Mrs. Smirnoff (Ejected)
3. Russ Bowler, 40 Flying Kiwi
4. Ray Crowley, 407 Neat
5. Rick Loewen, 500 It's 5:00 Somewhere (Turtled)
8-hp Mixed
1. Russ Bowler, 40 Flying Kiwi
2. Todd Steffes, 20 Hot Toddy
3. Rick Loewen, 500 It's 5:00 Somewhere
Turtle Club Inductee
Rick Loewen, 500 It's 5:00 Somewhere
Catapult Club (?) Inductee
Lou Linden, 66 Mrs. Smirnoff
By Tulio Vulgaris