Nothing says holidays on the Chesapeake Bay quite like lighted boat parades. And after last year's mostly lack of festivities, we could not be more excited to celebrate this year. We will post any updates, cancellations, and any new parades that might be announced later on this page. Be sure to check parade websites directly before planning to attend, as weather and Covid could potentially cause changes and/or cancellations of events.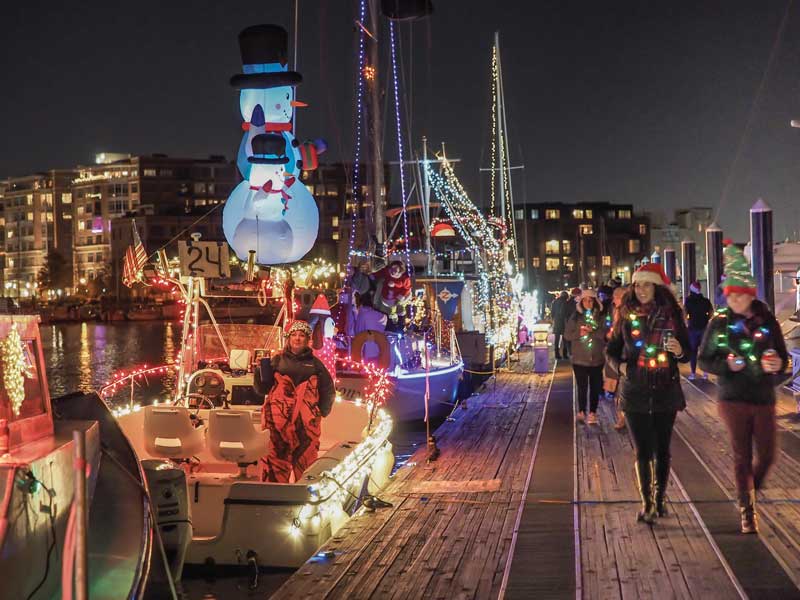 Middle River Lighted Boat Parade: November 27 in Middle River, MD.
The Mid-Atlantic's largest lighted boat parade, and now the fifth largest in the US! All parade boats must check in at one of five waterfront restaurants or Stansbury before 5:30 p.m. and then proceed to the front of Stansbury Yacht Basin and along Wilson Point for parade start at 5:45 p.m. To register, text name, address, and boat info to (410) 463-2686. Captain's package includes gift cards in excess of $300 for every captain. Route: Carson's Creekside/Dark Head Cove/Hawthorne; Middle River Yacht Club/Crazy Tuna/Riverwatch; Middleborough/Norman Creek/Crescent Yacht Club; Bauerschmidt Manor/Eastern Yacht Club; Rockaway/Turkey Point; Bowleys Point/Bowleys Quarters; Frog Mortar Creek/Parkside Marina; and then back to Stansbury for parade disbursement. Visit facebook.com/mrboatparade for more info.
Pasadena Lighted Boat Parade: November 27 in Pasadena, MD.
This event will light up Pasadena from Rock Creek, Stoney Creek, and Bodkin Creek beginning at 6 p.m., with judging for each of the three creeks. Contact PYY Marine at (410) 255-1771 to register your boat and purchase tickets for the after party. There will be great prizes. The after party kicks off at 7:30 p.m. at The Rumor Reel Restaurant. Tickets cost $45. Dinner buffet, live music, cash bar. For updates, visit facebook.com/PasadenaBoatParade.
The District's Holiday Boat Parade: December 4 in Washington, DC.
From 6 to 9 p.m. there will be activities throughout The Wharf including a wine and beer garden, fireworks, live music, and more. Over 60 beautifully decorated boats will parade along the Washington Channel beginning at 7 p.m. This event is free and open to the public; no registration is required to view the parade or enjoy the live music and activities. Boats participating in the parade receive commemorative swag bags, invitations to the captains after party, and are eligible for a chance to win some fantastic cash prizes, including the $1000 Best in Parade award. Boat captains must register in advance of participation and must attend the mandatory captains meeting on December 2 at 7 p.m. For more information and to register your boat, visit wharfdc.com.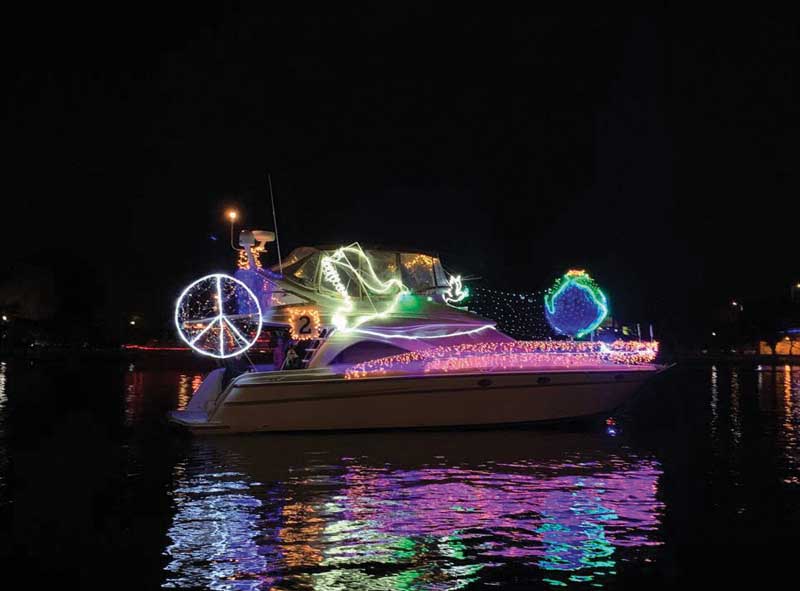 21st Annual Alexandria Holiday Boat Parade of Lights: December 4 in Alexandria, VA.
Beginning at 5:30 p.m., Old Town Alexandria's historic waterfront will shine with illuminated boats as they cruise one mile of the Potomac River shoreline. Register before the November 15 deadline. Parade participation is limited and fills fast! The captain of each pre-registered boat will receive a $100 thank you gift card at the captains' meeting to help underwrite decorating costs. Attendance is required at the virtual captains' meeting on Wednesday, December 1 at 7 p.m. held via Zoom. Questions: [email protected] or visit visitalexandriava.com.
33rd Annual Baltimore Parade of Lighted Boats: December 4 in Baltimore, MD.
4:30 to 8 p.m. at Anchorage Marina in Baltimore, MD. Tree lighting and holiday cheer begin at 5 p.m. on P dock. A brief Captains meeting will take place on P dock at 5:30 p.m. All participants will receive complimentary overnight dockage on the night of Dec. 4, as well as a complimentary weekend dockage certificate for use during the 2022 boating season (excludes holidays and special events). This event is sponsored by Anchorage Marina and Sail Baltimore. Social distancing rules apply, and masks are strongly suggested. Register at this link.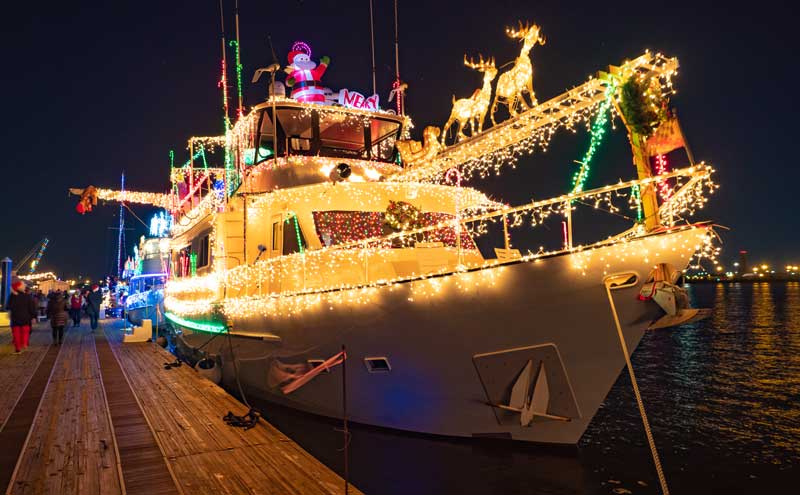 Solomons Lighted Boat Parade: December 4 in Solomons, MD.
Celebrate the 38th year of Christmas Walk in Solomons with the lighting of the gazebo Christmas tree and Santa's parade with the Solomons Volunteer Fire Department at 5 p.m., a competition for best decorated homes and businesses, letters to Santa that can be dropped off at Santa's mailbox in the Solomons gazebo, and of course, the lighted boat parade. The boat parade will be organized at Solomons Island Yacht Center at 6 p.m. and arrives at Patuxent Riverwalk at 7:15 p.m. There will be prizes for the best decorated boat. For information on participation, please call (667)-256 6272, email [email protected], or visit solomonsmaryland.com.
Yorktown Lighted Boat Parade: December 4 in Yorktown, VA.
Pre-parade festivities start at 6 p.m. and include caroling around a beach bonfire, a musical performance by the Fifes & Drums of York Town, and complimentary hot cider. The boats will finish out the evening as they make their way down the river in a dazzling show of lights that starts at 7 p.m. This annual event has been a community tradition for more than two decades and brings neighbors together to celebrate the season. As an added safety precaution, families are encouraged to bring flashlights to assist in navigation around town at night. No rain dates are scheduled. In the event that weather conditions pose a threat, please call the York County event weather hotline for the most current information at (757)-890 3520. This free event is sponsored by the Yorktown Lighted Boat Parade Committee. For more details, visit visitwilliamsburg.com.
Second Annual Bear Creek Lighted Boat Parade: December 4 in Dundalk, MD.
Presented by Bear Creek Sailing. 5 p.m. check-in at host Hard Yacht Cafe in Dundalk. Parade starts at 5:30 p.m. Register your boat by December 1 at bearcreeksailing.com. Parade VHF 68.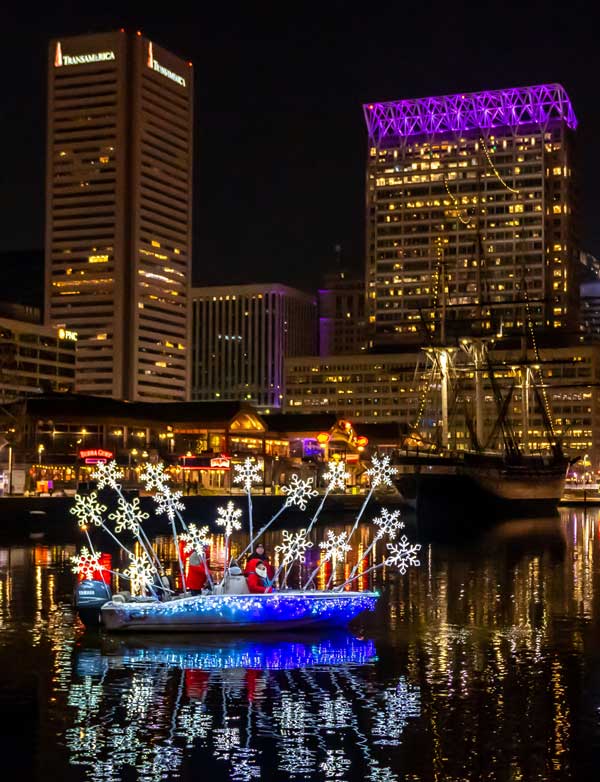 Colonial Beach Yacht Club's 23rd Annual Lighted Boat Parade: December 4 in Colonial Beach, VA.
Boats will parade in colorful formation up the beachfront of Colonial Beach and the town pier. There will be a mandatory captain's meeting the day of the parade, 11 a.m. at Dockside. The parade will begin approximately at 4:45 p.m.at Marker 2, go past the Riverboat to the condos, and return to Colonial Beach Yacht Center on Monroe Bay. Awards for the top three lighted boats will be announced at Dockside Restaurant and Tiki Bar following the parade. Visit colonialyachtclub.org, the event Facebook page, email [email protected], or call (804) 761-8021 for questions and/or to register.
UPDATE: Christmas in St. Michaels Boat Parade: December 10 in St. Michaels, MD.
UPDATE: This parade was originally scheduled for Saturday, December 11 but has been moved to Friday, December 10 due to predicted high winds on Saturday. The parade is scheduled for 6 p.m. around St. Michaels Harbor in St. Michaels, MD. This is a judged competition. To enter a boat, visit christmasinstmichaels.org. The lighted boats will also be dockside along the harbor on Saturday.  
The weekend event includes family-favorites like Saturday's Breakfast with Santa, which takes place from 8 to 10 a.m. at the waterfront Foxy's Harbor Grille, with limited $10 tickets available for online purchasing. The 10:30 a.m. Talbot Street Parade, Santa Dash, and the Tour of Homes are wonderful mid-day events, with parade routes, event details, online tickets, and more at christmasinstmichaels.org. Christmas in St. Michaels proceeds benefit the people served by local non-profit organizations.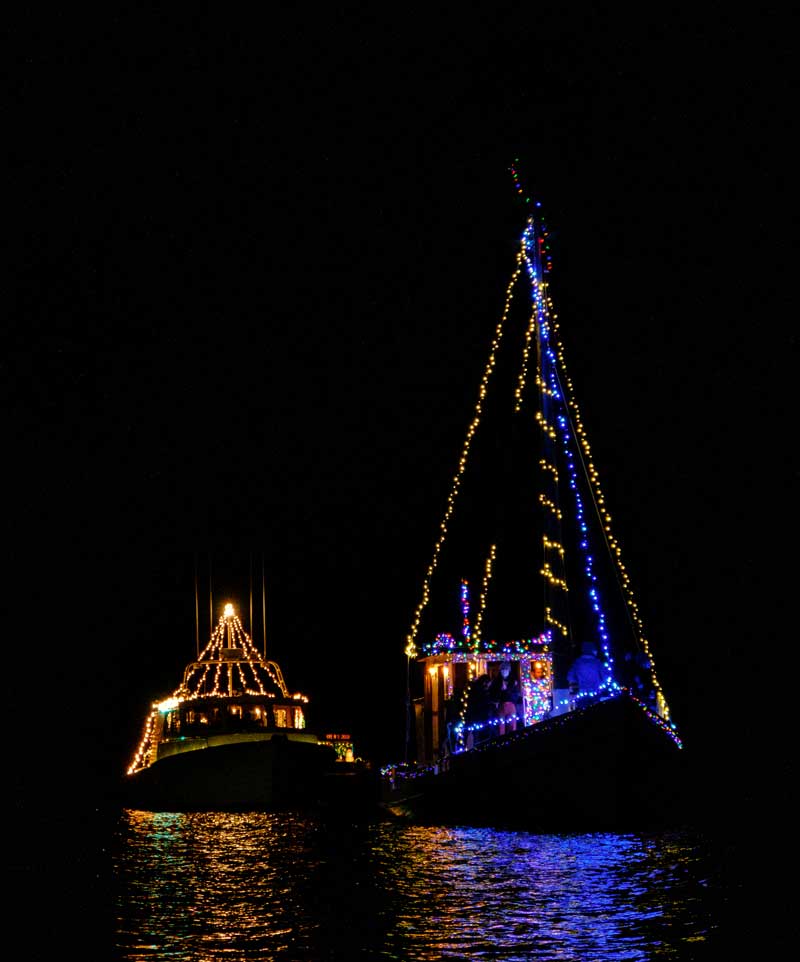 Eastport Yacht Club Lights Parade: December 11 in Annapolis, MD.
6 to 8 p.m. along the Annapolis waterfront with up to 40 boats of all shapes and sizes, both power and sail. Skippers circle the waterfront in two fleets: one circling in front of Eastport, the City Dock, and the Naval Academy seawall; the other circling the length of Spa Creek, inside the bridge. Only high winds will result in cancellation. Anyone may participate (EYC members and non-members alike) and Eastport Yacht Club provides safety briefings prior to the parade. Skippers may register their boats until 5 p.m. on Tuesday, December 7. Visit eastportyc.org/lights-parade for more information, including parade registrant information, parade maps, parking information, viewing sites, and decorating tips. The "People's Choice Award" is based upon voting on the Lights Parade Facebook page. Many other prizes are awarded for various categories and sizes of vessels. As the capstone event for participants, skippers are celebrated at a special brunch held at Eastport Yacht Club on the day after the parade, Sunday, December 12.
Hampton Lighted Boat Parade: December 11 in Hampton, VA.
2 to 9 p.m. at the downtown waterfront. The highly anticipated gathering of illuminated powerboats and sailboats is visible from anywhere along the Hampton River. Register your boat at downtownhampton.com and find more details for spectators at visithampton.com.
Deale Parade of Lights: December 15 in Deale, MD.
On Rockhold and Tracey's Creek on Herring Bay at 6 p.m. Presented by Shipwright Harbor Marina and Happy Harbor Restaurant. For updates, visit facebook.com/DealeMDParadeOfLights.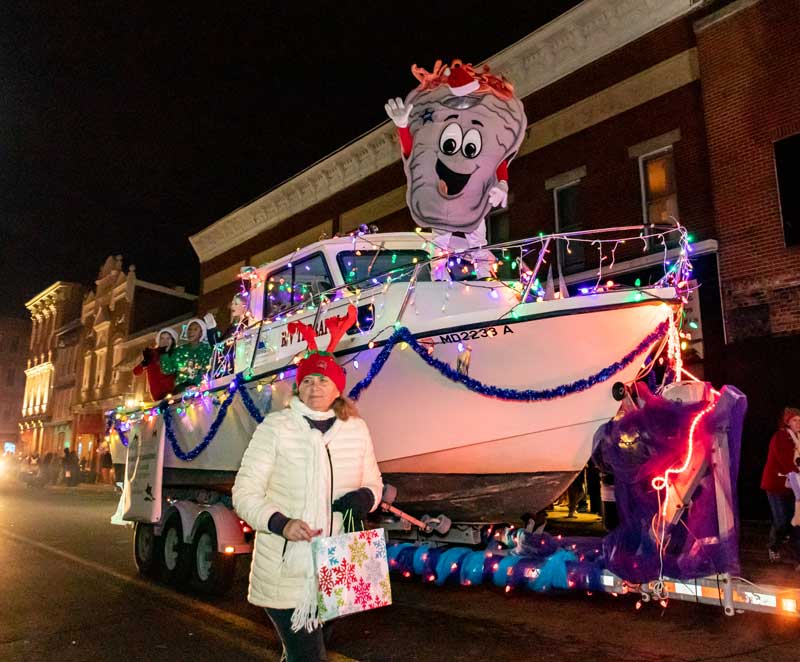 More Holiday Events in Chesapeake Country: