Boat yards are abuzz, ospreys are returning, and if past years are any indication, you better be ready to break out the flip flops because spring has arrived and the Bay Bridge Boat Show is back!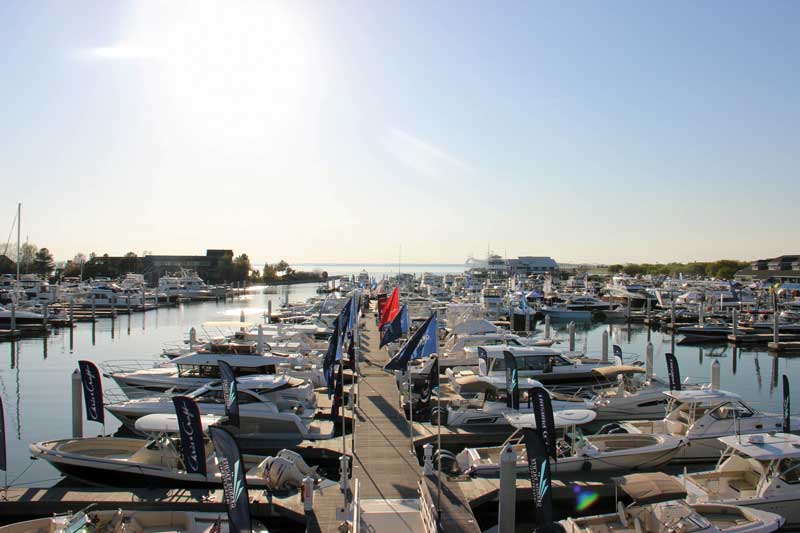 Grab your family, friends, and the latest issue of PropTalk because we have all the details you need to have a fun and successful show, whether you're in the market for a new boat or simply want to spend a spring day strolling the docks. 
Last year, the Annapolis Spring Sailboat Show was combined with the Bay Bridge Boat Show for a power and sail event. This year, we're back to the normal format of two spring shows, with the Sailboat Show running the following weekend, April 29-May 1. Annapolis Boat Shows general manager Sheila Jones says,
"We have a great line up of new and returning exhibitors this April. We are excited to announce the addition of a Fishing Pavilion. Along with some new choices in the food court, the opening of Libbey's Coastal Kitchen adds to the excitement. We look forward to welcoming everyone to come out and enjoy the show!"
Find more details at annapolisboatshows.com.
Bay Bridge Boat Show Details
Dates: April 21-24
Times: Thursday 12 to 6:30 p.m.; Friday and Saturday 10 a.m. to 6:30 p.m.; Sunday 10 a.m. to 5 p.m.
Location: Bay Bridge Marina in Stevensville, MD
Directions: From Annapolis, head east on Route 50. After crossing the Chesapeake Bay Bridge, take the first exit on the right for Kent Island (Exit 37). Then, follow the signs for Boat Show Parking.
Parking: Onsite parking costs $10. A portion of the proceeds will go to the Kent Island High School Swim Team. Free parking and shuttle are offsite. Please follow parking signs to lot.
Tickets: general admission $20, children under 12 are free. Unlike in previous years, there will not be a ticketing box office onsite at the show. Please purchase your digital tickets in advance at annapolisboatshows.com.
VIP Tickets: $85, includes boat show admission and exclusive access with unlimited entry into the VIP Lounge—an elegant lounge with comfortable seating, delicious complimentary cuisine, wine, beer, and spirit tastings. 21 and over. Valid for one day only. VIP parking pass costs an additional $15; limited spaces available.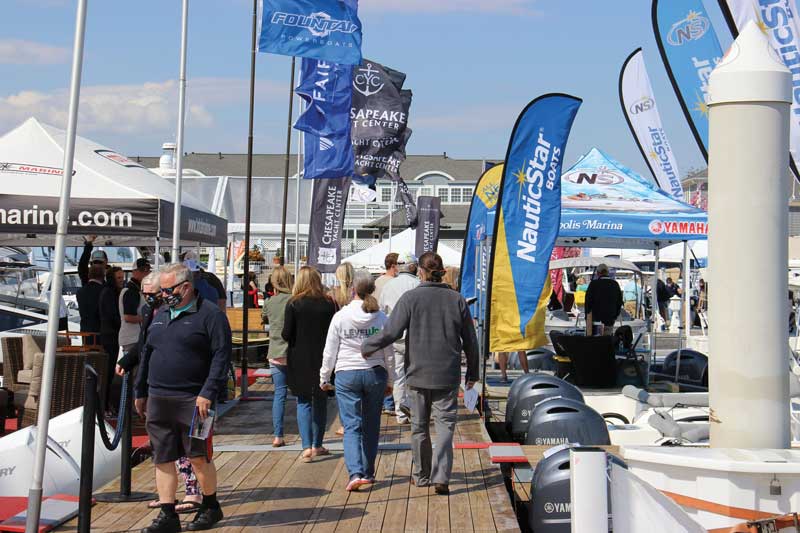 Insider Tips for Navigating the Show
Wear the right shoes: Choose a pair that is easy to slip off and on so you can easily remove shoes when boarding boats. Also choose a pair that is comfortable. With loads of docks to navigate, this probably isn't the best place to wear heels. If it's cold or rainy, wear rain boots.
Share and save information: Bring your phone, notepad, pens, boat cards, and business cards to share and save information. Serious buyers should make appointments with the boat brokers.
Dress in layers: Spring on the Chesapeake can be a fickle thing, and it's not uncommon to wear shorts one day and yearn for winter gloves the next. Best to dress in layers so you're comfortable no matter what the day brings.
Bring cash: Many vendors will accept your credit card, but cash is easiest for small purchases, and you don't want to waste time waiting in line at the ATM.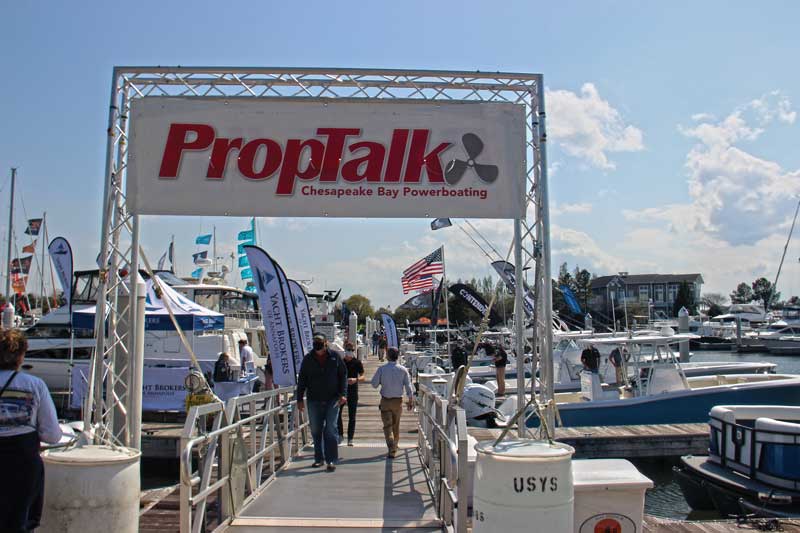 PropTalk Demo Dock
The best way to know if a boat is right for you is to try it on for size, so dealers will be conducting demonstrations and sea trials at easy to access demonstration docks within the show. At print time, this was the list of participating demo dock boats. Stay tuned for updates and changes on the Boat Show website. 
Stamas 33T Aventura, Grand 580, Zar 95SL: Annapolis Yacht Sales
Invincible 39 Open Fisherman, Invincible 36 Open Fisherman: Intrinsic Yacht & Ship
Pioneer 270 Pelagic: Pasadena Boat Works
41CS Solace: PYY Marine
Seakeeper: Annapolis Harbor Boat Yard
BoatUS On-Water Training
SipAhoy Cycle Boats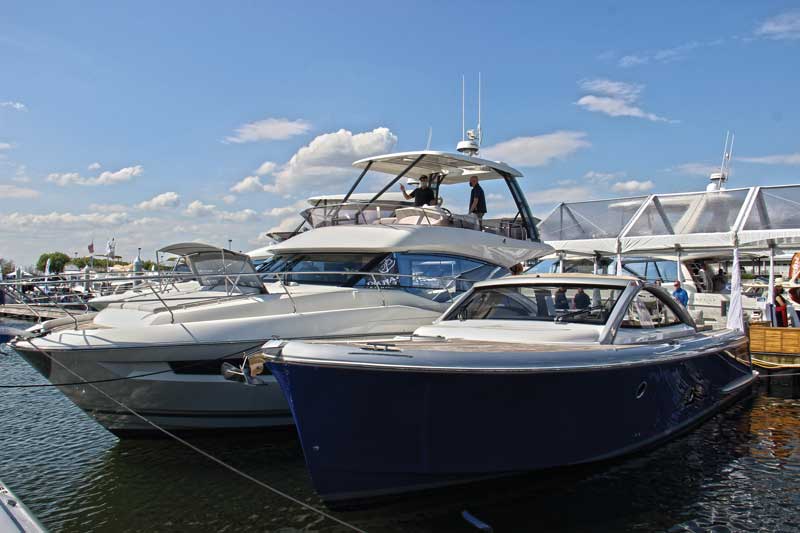 New This Year! The FishTalk Fishing Pavilion
At the all-new fishing pavilion, sponsored by FishTalk Magazine, guests can browse the latest in accessories, shop custom lures crafted by local anglers (some craftsman only onsite Saturday and Sunday), listen to top fishing experts, and enjoy the opportunity to share fishing stories with other anglers at happy hour. As always, the show will be packed with center consoles and other fishing boats to tour after checking out the fishing pavilion.
FishTalk Angler in Chief Lenny Rudow had this to say about the new space:
"I'm uber-excited to see the FishTalk Fishing Pavilion become a reality. Countless boat shoppers coming to the show are anglers, and in the past, we haven't had many attractions dedicated to the fishermen in the venue. What's even better is the kid's casting corner—I just can't wait to see those kids swing a fishing rod and win a prize. This is going to be FUN!!"
Fishing Seminars
Located in the Fishing Pavilion and situated strategically by the food court, you can grab a drink and learn tricks, tips, and helpful hints for your next fishing adventure.
Jigging for Rockfish in the Bay with Lenny Rudow: Friday, April 22 at 4 p.m. Learn how to tempt those rockfish with light-tackle jigging techniques, including how to target early summer stripers, suspended fish, and rockfish in the shallows.
How to Catch Snakehead with Eric Packard: Saturday, April 23 at 4 p.m. FishTalk Contributor Eric Packard will describe the gear used for snakehead fishing and how and where to take aim at those dragons. Topwater bites, fishing in heavy cover, and targeting fry balls will all be in the mix.
Alternative Species with Lenny Rudow: Sunday, April 24 at 2 p.m. Catching speckled trout, redfish, and Spanish mackerel. As rockfish have become tougher to locate and catch in much of the Bay, luckily, we've seen a noticeable spike in the opportunities to catch these other species. But… how and where will you target specks, reds, and Spanish? You're about to find out!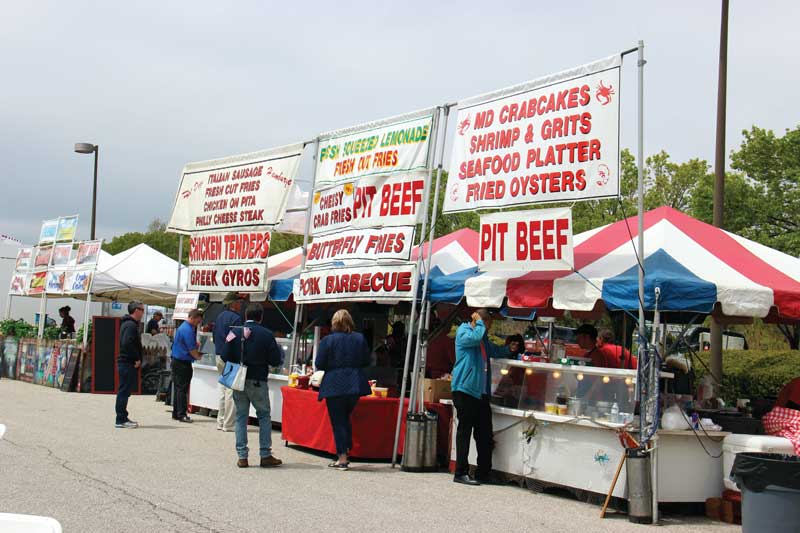 Other Fishing Highlights
Adjacent to the tent will be leading outdoorsman organizations, Fish & Hunt Maryland and Coastal Conservation Association Maryland (CCA), to help expand your knowledge of the many fishing opportunities right here in Maryland and bring awareness to fishing's impact on our waters.
Take Me Fishing will have educational handouts and kid coloring activities promoting participation in recreational boating and fishing. Learn more about this organization at takemefishing.org.
The kid's activation area will have several fun activities. Try your luck at casting to win a prize!
Pavilion exhibitors: Affordable Travel Fishing Gear, Capt. John's Tackle, Fishoff Glove, Ghostdrag Line-Release Clip, Kenny K's Rock Fish Lures, Kraz Outdoors, Mary Lou Troutman, Reel All-American Fishing Ventures. Outside the pavilion, you'll also find Shore Tackle & Custom Rods, Works of Art (custom rods), Elligail Charters (Chesapeake Bay Charter Fishing for groups from 4-20), and of course, over 50 manufacturers of fishing boats.
Educational Opportunities
Cruisers University: The program will be held April 28-May 1 at the Historic Inns of Annapolis. At print time, they were still accepting registrations. More than 70 classes are available for sailors and powerboaters alike who have an interest in learning the fundamentals of bluewater cruising. All tuition includes educational materials, instruction by renowned cruising experts, evening social activities, admission to all days of the Annapolis Spring Sailboat Show (April 29-May 1), complimentary one-year basic BoatUS membership ($30 value). Find a list of classes, tuition information, and registration at annapolisboatshows.com/cruisers-university.
On-Water Training: BoatUS Foundation will host a number of family-friendly introductory boating courses such as Intro to Boating, Women Making Waves, Precision Docking and Boat Handling, and Open Water Boat Handling. New boaters may register for instruction on techniques such as wheel centering, shifting, steering and throttle control, stopping, station holding, and more. Courses cost $175, and admission into the show is included. At print time some courses and dates were already sold out, so be sure to reserve your space ASAP at annapolisboatshows.com.
Free Daily Seminars: No pre-registration is necessary but limited seating is available; first come, first served. Seminar schedule and speakers are subject to change. Show admission required. Topics include: Docking De-Stressed, Boat Buying 101 "Chat With a Broker," Get Your Captain's License, Dock N' Dine on the Chesapeake, and How to Anchor Your Boat.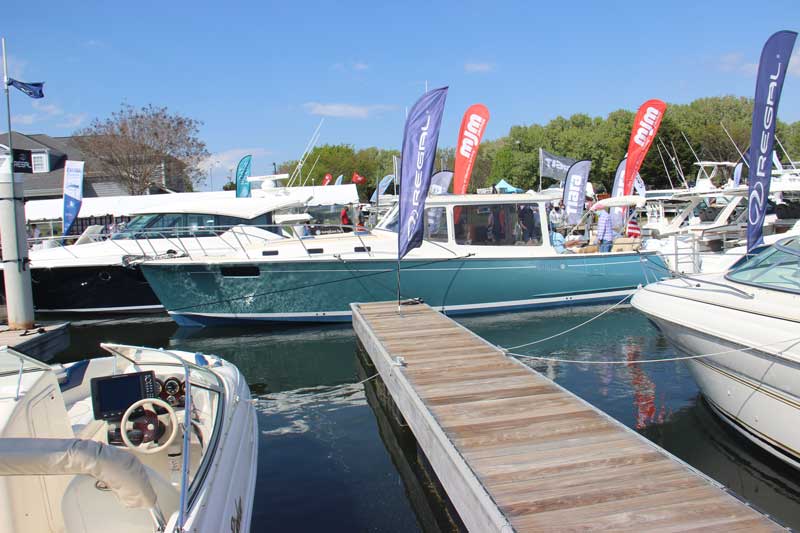 Other Highlights:
BMW Test Drives: only available Saturday and Sunday during show hours. Models include: iX, i4, X7 M50i, and the M8.
Food court
Hemingway's Restaurant is now Libbey's Coastal Kitchen and Cocktails under new owner Walt Petrie. Libbey's menu will feature creative dishes curated from fresh, local ingredients rich in Eastern Shore tradition.
Spend the Weekend in Queen Anne's County
While in town for the show, plan to make a full day or weekend of it by exploring Kent Island and Queen Anne's County. Activities abound from nature hikes to museums catering to local culture and heritage, and a multitude of distilleries, wineries, and breweries. Plan your adventure at visitqueenannes.com.
Come See Us!
Stop by tent F44 to grab the latest issues of PropTalk, FishTalk, SpinSheet, and Portbook and say hello. We love meeting our readers!
We hope to see you at the show! Stay tuned for any updates on the Annapolis Boat Shows website and on this page.  \And remember to purchase your tickets in advance as there will not be an onsite ticketing box office this year. Visit annapolisboatshows.com to purchase tickets, register for courses, and to view a map of the show, exhibitor list, and more details on specific events.