You've probably heard that 2020 was an unprecedented year for boating. So, if you want a new or new-to-you boat for the 2021 season, you need to start thinking about it sooner rather than later. These boat buying tips should help get you started.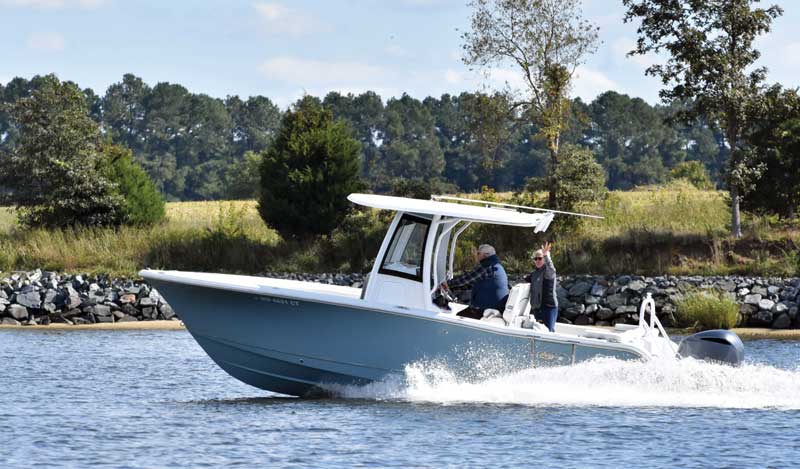 Ask yourself, how will you use the boat?
Are you dreaming about extended cruises on the ICW or Great Loop? Or do you plan to do mostly weekend cruising on the Chesapeake? Do you plan to trailer your vessel to inland lakes? Will you be mostly fishing, or do you also hope to go wakeboarding and/or tow a tube? Will you be cruising alone, or do you intend to take out friends, family, or your kids?
You need to ask yourself all of these questions and write down your thoughts before looking at boats. Do research online for which models offer the kind of amenities you are looking for, and ask boating friends about what works and doesn't work for them on their particular boats. 
Be realistic about your budget.
Take time to do the real math, not just the purchase price for the boat. You have to factor in fuel costs, slip and storage fees, travel expenses, maintenance fees, insurance, and a membership to an emergency service such as TowBoatU.S. or SeaTow. Keep revising your list to make sure it's as accurate as possible. 
New or used?
There's a lot of peace of mind when buying a new boat—there's not a nick on it, it's all shiny and fresh, and you don't have to worry about the previous maintenance record. On the flip side, boats are a big investment, and like cars they depreciate considerably in the first couple of years, so purchasing a previously owned vessel could get you more bang for your buck. Another consideration is that used boats are likely to come loaded with extras such as GPS, a fish finder, radio, lines, fenders, and an anchor. Although you'll absorb some extra cost for them, it won't be nearly as much as adding them to a new boat.
Used boats sold by a dealer come in two types: trade-in and brokerage. Trade-in boats belong to the dealer. Brokerage boats belong to an owner, who has placed the boat with the dealer and will pay the dealer a percentage of the sale price when the boat is sold. Dealer-owned boats usually have gone through an inspection by the service department. They may also come with a warranty. Brokerage boats may not have gone through such an inspection and will probably not come with a warranty.
Another option is to purchase a boat directly from the seller. You'll have less protection this way and no warranty, so insist on all service records and be wary if they can't be provided. With a used boat you want to know as much as possible about how well it has been maintained, right down to the quality of the replacement parts and the type of oil used. 
Boat Brokers
If you engage a broker to help you, look for an individual that is a member of the Yacht Brokers Association of America. This organization sets the industry's standards and ethical codes. You may want to interview several brokers. Find someone who listens well, with knowledge and experience dealing in the type and range of boats you're considering. Remember that the listing broker is working for the seller. Your broker will work for you and should research comparable boats and help you make a reasonable offer when the time comes. Your broker will share in the listing broker's commission when the deal is done. 
Upcoming Winter Events:
Riverside Marine Winter Boat Show: Now Through February 28 (or while supplies last). At Riverside Marine, in Essex, MD. Free admission, 30 boats on display (bowriders, deckboats, fishing boats, and pre-owned boats), heated tent (Covid restrictions in place), personalized appointments, demo rides all winter if weather permits, and winter boat show prices. Models include: the new Open 302 and 322 Sportsman, the new Trophy line-up, and new Bayliner model and color and upholstery changes for 2021, along with a good selection of pre-owned boats. Appointments required: (410) 686-1500. Learn more at riversideboats.com.
Bosun's Boat Expo: February 19-28. 10 a.m. to 5 p.m. at Bosun's Marine-Maryland (formerly Grande Yachts) in Grasonville, MD. Coast Guard Auxiliary, tackle shops, engine technicians, and electronics experts will be present to answer all your boating questions. On display will be boat models from 23 feet to 42 feet including Pursuit, Chris Craft, Cobalt, World Cat, and Jupiter. As a special incentive to buyers, Bosuns along with their manufacturing partners will offer FREE electronics packages with all purchases during this event. This is a value up to $20,000 depending on the boat model, which is a tremendous savings. Bosuns will have two large heated indoor showrooms and will be adhering to Covid-19 regulations which include wearing face masks and social distancing. For those who prefer a private showing, they will be happy to accommodate you. Call (443) 347-6108 to RSVP. Visit bosuns.com/boat-expo for more information.